WITHDRAW/DROP REQUEST FACULTY GUIDE
When the halfway point of a course is reached, faculty will have to approve or deny withdraw/drop requests from students. When an approval is needed, faculty will receive an email with a link that will take them directly to the Withdrawal Request Approval page in PeopleSoft. Requests should be addressed within 48 hours of receipt.
Faculty Approving or Denying Withdraw/Drop Requests
From the faculty approval generated email:

1. Click the provided link in the email.

2. If prompted, log in to Peoplesoft.

3. The link provided in the email will navigate directly to the Withdraw Request Approval Page. Select the Magnifying Glass under Select a Withdraw Request to select the student.

Note: The Withdrawal Request Approval page can also be accessed from PeopleSoft if not using the email link provided. The page has been set up as a tile on the Campus Solutions Homepage. If the tile is not visible, the tile must be added:
From the Campus Solutions Homepage, click the Action List icon .
Select Personalize Homepage
Click Add Tile in the upper right hand
Select KCTCS Fluid Development.
Select Withdrawal
Click the green Save button in the upper right hand corner. The tile should now be visible on the Campus Solutions Homepage.
4. Select the student from the list.

5. The Student's information and reason for withdraw will display. Click on the Approve or Deny button to approve or deny the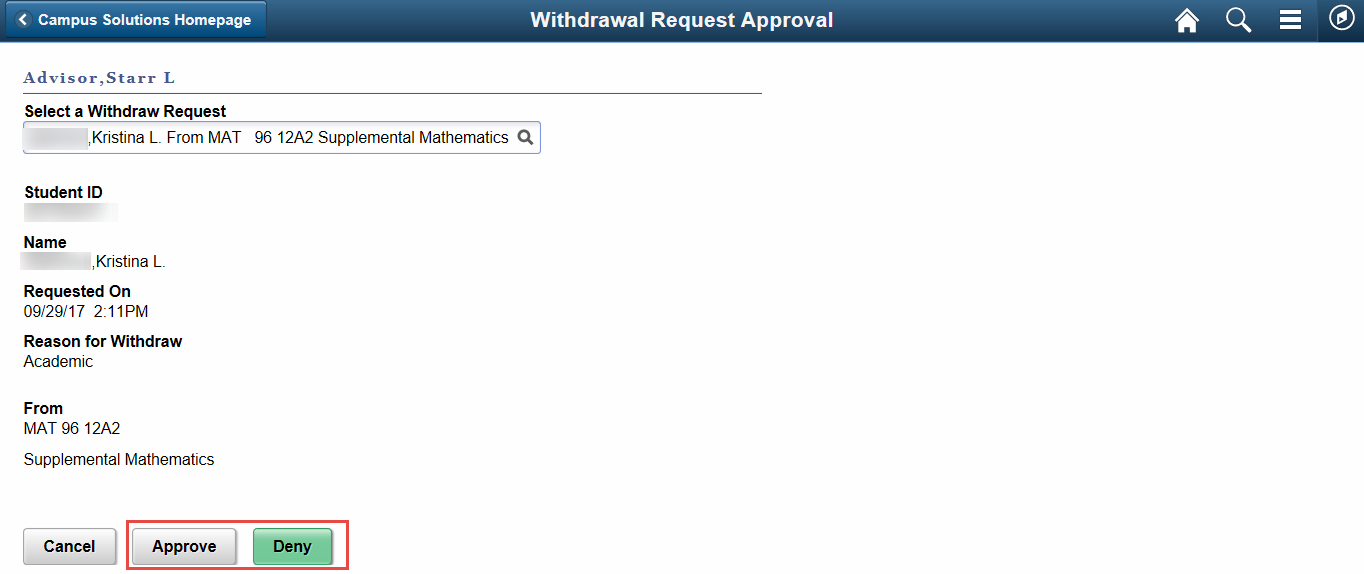 6. A confirmation will display stating the request has been set to Approved or Denied. Click OK to work another request or click OK and then Cancel to return to the homepage. Selecting Approve or Deny will flag the record with an "A" or a "D" where A = Approved by Faculty and D=Denied by Faculty.

7. The student will be notified via email when the request has been approved or denied.
8. After the approval or denial is completed by the faculty member, the college will complete the withdrawal and update the record as complete.
Faculty Withdraw/Drop Requests Important Information
If an approval/denial is marked incorrectly by the faculty member, faculty should contact the records office to have the record fixed.
If a request is not addressed by faculty within 48 hours, an escalation email will be sent to a designated individual(s). Please be prompt in addressing Withdrawal Request Approval Emails.