Starfish
It is an online program that facilitates communication between you, your advisor, your instructors and other support services on campus.
Many institutions use Starfish's student welcome page to give students a quick start using Starfish. This page can be set to display the first time the student logs in. The student can opt to have the page display on subsequent visits by clicking the box labeled "Show me this welcome page next time I login to Starfish." If this box is not checked, the student will go directly to the student dashboard the next time they log in to Starfish.

From this page, the student can go straight to options for making an appointment, customizing their profile, or searching for available services. The student can click the Close button at the bottom of the screen, or select Home from the top level navigation to go to the student dashboard.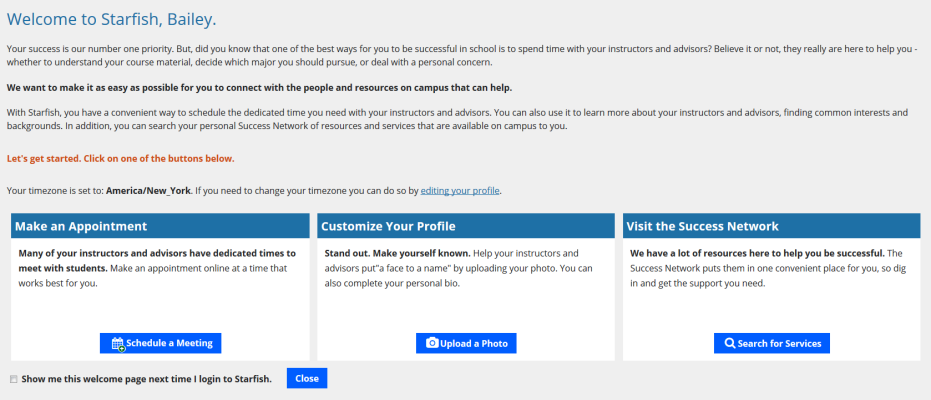 The main Dashboard includes a left hand panel highlighting upcoming events in chronological order and a right hand panel highlighting items that require the student's attention (student items with specific due dates may appear in both places).
The left hand panel may include:
Upcoming appointments (if using Starfish Connect)
Upcoming assignments (if being sent from the LMS)
Upcoming classes (if the student schedule file is being sent from your SIS)
The right panel may include:
Recent Kudos given to the student
Any Flags, Referrals, To-Dos, or upcoming Success Plan requirements that require their attention.

Kudos - acknowledge positive progress/achievements
Flags - alert students of issues or concerns related to a course or some other aspect of the student's academic career
Referrals - directs a student to make an appointment or visit a particular service on campus
To customize your student profile page, the student will select the three lines at the top left corner. Then, select the drop-down arrow next to the student's name. Next, select "Profile." Update the following information: phone number, upload a photo, and change the time zone to "Central Time." Click "Submit" and "Okay" to save.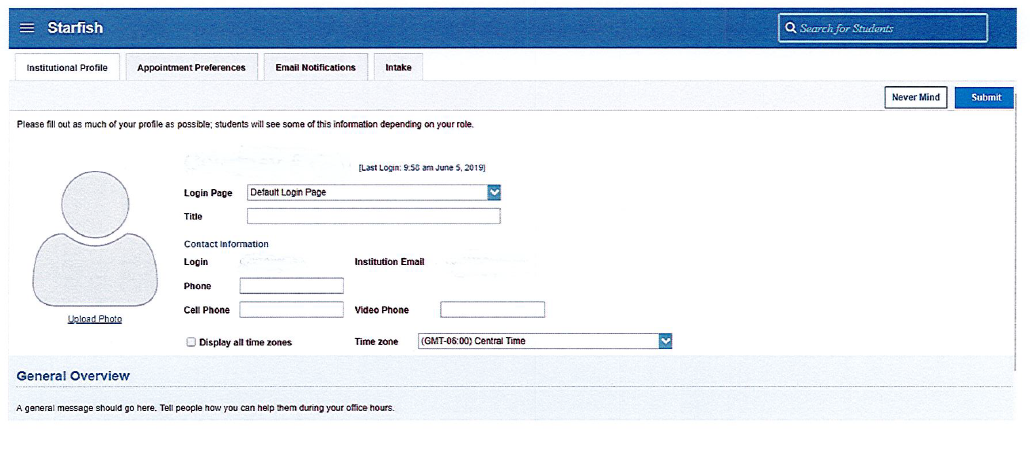 Help is available! This feature allows the student to request assistance from us. The student will select what type of help is needed and provide details. Once the student submits their request, this alert will be sent to the appropriate faculty or staff to help resolve this issue as quickly as possible.
The type of help the student can request from this feature include:
I am considering dropping my course
I have a health concern
I have an unforeseen financial emergency and need assistance
I need help with my online/remote services or classes
I need to talk with my academic advisor
I would like information about counseling
I would like tutoring for a class
I'm worried about my grade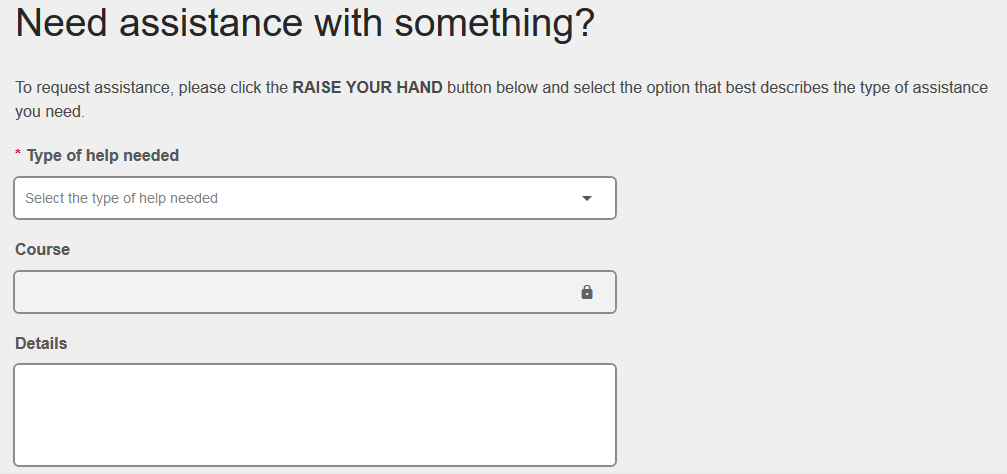 For questions about Starfish, please contact Dr. Chad Phillips at 270-827-6158 or via email.