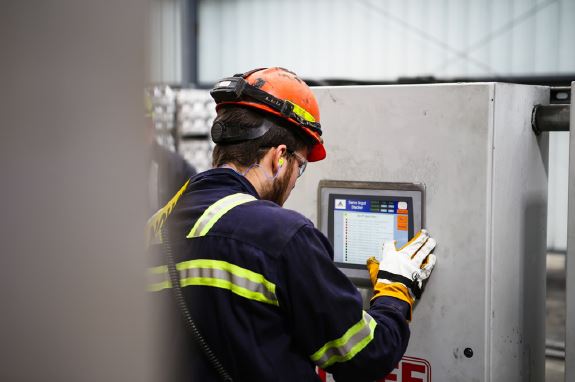 HCC FAME is a "work and learn" program that gives participating students the opportunity to earn an industry recognized degree while gaining valuable experience at a manufacturing company.
Benefits of this program include:
Complete your degree in 5 semesters
Employer pays half of the student's tuition
Competitive wages
Scholarship opportunities, such as Kentucky Work Ready Scholarship, are available
Potential to graduate debt-free
Recent graduates are earning up to $45,000 a year!
APPLICATION DEADLINE IS MAY 1, 2021!
For more information about the HCC FAME program, please contact Amanda Blohm-Thompson, Success Coach, at amanda.blohm@kctcs.edu or 270-831-9835.
For steps on how to apply to the program, go to: https://bit.ly/2GBq1AT
In the HCC FAME program students will learn and apply:
A TECHNICAL CORE
Motor Controls
Maintaining Industrial Equipment
Electrical Principles
Blueprint Reading
Machine Tool Fundamentals
Welding
Troubleshooting
Robotics
PLCs
THE MANUFACTURING CORE EXERCISES
Safety Culture
Workplace Visual Organization (5S)
Lean Manufacturing
Problem Solving
Maintenance Reliability
THE SIX PROFESSIONAL BEHAVIORS
Attendance
Initiative
Diligence
Teamwork
Communication
Interpersonal Relationships