TECHNOLOGY TIPS FOR STUDENTS
TECH TIPS FOR HCC STUDENTS

HCC Distance Learning Coordinator/Blackboard Admin:
Jon Reidford
jon.reidford@kctcs.edu
270-831-9829
HCC Technology Solutions Help Desk
270-831-9616
Online Student Resources:
https://henderson.kctcs.edu/current-students/academic-resources/online-student-resources.aspx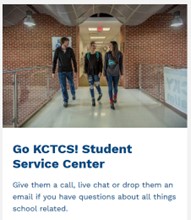 GoKCTCS! Student Service Center (evenings/weekends)
855 GO-HCC44 (855-464-2244)
Accessing MYPATH:

HCC > Current Students > MYPATH >
Blackboard
Email
PeopleSoft Campus Solutions
Library (database access, etc.)
User Account Center (make sure personal email, etc. is listed in event of password issue)
OneDrive (always good to have a flash drive also!!!)
- Use OneDrive to backup schoolwork and also use to house large files to share (videos/audio) with instructors and classmates
Using ONEDRIVE:
Above, click the Upload link to add a file(s) or folder to your OneDrive area.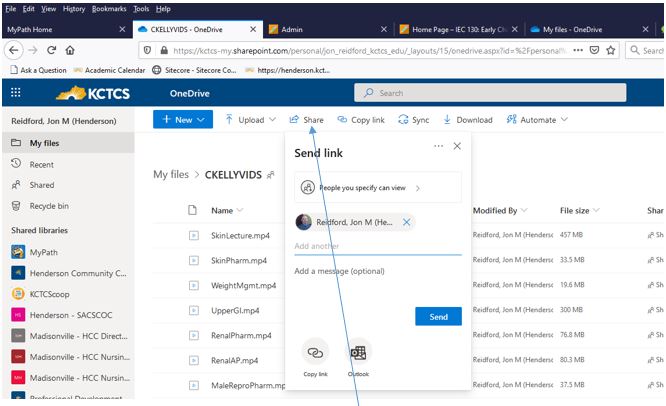 Next, to share a file with an instructor or classmate click on Share and then type a name(s) in the Add area and you can also create a message below that as well. Click Send when ready!
Access Blackboard via MyPath OR via http://elearning.kctcs.edu
Blackboard Student Institution Page > Announcements and Student Resources
Blackboard Notifications/Activity Stream (set filters to show messages, announcements, calendars, etc.)
*remember all Blackboard-generated times are EST by default
*remember to close out of your HCC account/Blackboard on public computers
Clearing cache and history from Internet browser:
Google recommended browser settings:
Google – Settings – Advanced – Clear browsing data –
Google – Settings – Advanced – Privacy & security – Popups/redirects – Allowed
Google – Settings – Advanced – Site Settings – Cookies (Allow sites to save….)
Firefox recommended browser settings:
Firefox – IIII\ History menu – Clear Recent History
Firefox – (hamburger icon) History – Clear when Ff closes
Firefox – (hamburger icon) Cookies and Site Data – Accept cookies and site data (recommended)
Firefox – (hamburger icon) Permissions – Uncheck Block pop-up windows (Exceptions: henderson.kctcs.edu and elearning.kctcs.edu)

Downloading OFFICE 365

All KCTCS students who are currently enrolled in a course are eligible to install the full version of Microsoft Office 365 Pro Plus on up to 5 devices for free! This includes PC, Mac, Apple tablets and phones, and Android tablets and phones. The software will continue to work as long as you are enrolled in at least one class at a KCTCS college.
Get your discount now at https://www.office.com/?auth=2&home=1.
Instructions:
Install Office on your PC or Mac
1. Sign in with the KCTCS account, then click the "Install Office" button located on the right (see above). That then downloads the installer.
2. When prompted to save or run the application, choose Run
3. Follow the on screen prompts to install Office
4. After Office is installed, if prompted to log in, use your KCTCS email address and password
Install Office on your Apple or Android device
1. Download the Office Mobile app from the app store
2. Open the app and sign in with your KCTCS student email and password
Receive SNAP alerts!
https://kctcs.edu/about/safety-security/snap/index.aspx
Sign into Peoplesoft to complete the install process. Find out if classes are cancelled or delayed due to weather, power outages or other unexpected events impacting campus. Get severe weather notifications so you can take shelter when a storm hits. Receive emergency messages when something or someone could be a threat to your personal safety.