MOTHER & DAUGHTER GRADUATES HIGHLIGHT THIS ALUMNI CORNER!
Published on Feb 11, 2020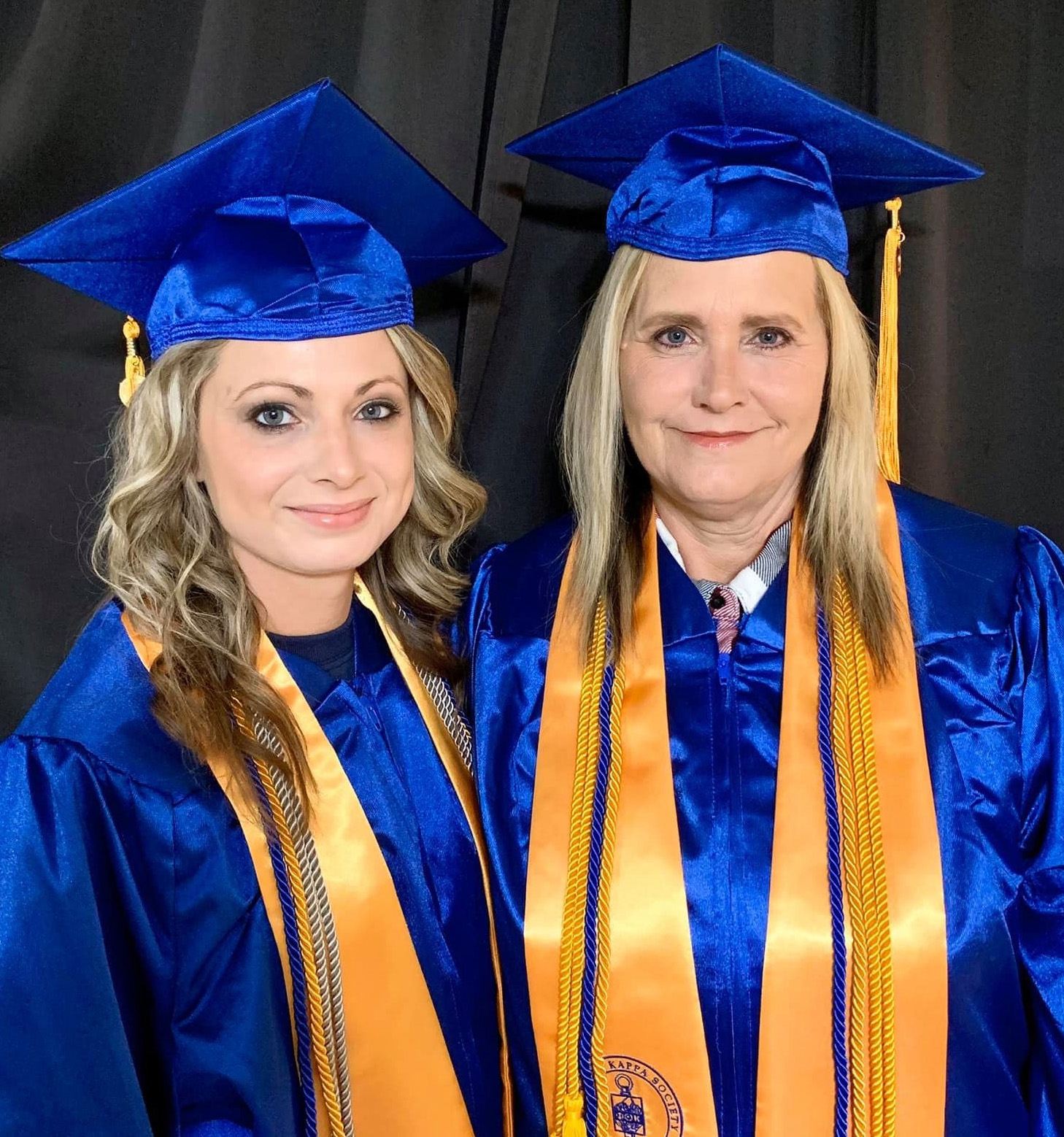 Kendra Rainwater and Angela Rayborn (left to right)
While every student who earns a certificate or credential has made an amazing accomplishment, there are times when we hear stories that are truly impressive.
Recently, we had the opportunity to sit down with mother and daughter Angela Rayborn and Kendra Rainwater. Angela and Kendra graduated from Henderson Community College in December 2019 with their Associate in Applied Science in Agriculture – Sustainable Agriculture Track.
While everyone's story is uniquely their own, Angela and Kendra's story is a little different than the rest. "Kendra kept saying she wanted to go to school, but she didn't want to go by herself," Angela said. "So I told her if she goes, I'll go with her, and that's how we both started classes here."
Angela and Kendra would be what we consider "non-traditional" students. Currently, Angela is a veterinary technician at Stanford Veterinary Hospital in Stanford, KY and Kendra works for Amazon in their Security department, where they each work 60-70 hours per week. They also live in Middleburg, KY, which is about 4 hours away from Henderson. So for them, online classes were the only way they were going to be able to attend school. Kendra said, "With our schedules and with no Agriculture classes being taught close by, we couldn't have gone to school if there weren't online classes offered."
So why the Agriculture program? "I grew up on a farm, so I was interested in the subject already. I thought I knew everything there was to know about farming, I started picking tobacco when I was 6, but I learned so much," said Angela. Kendra said, "I learned a lot of helpful information. I knew some things from just watching my Dad and Papaw, but there is a lot I had no idea about." Angela and her husband, Johnny, who is also Kendra's Dad, don't do much farming any more, but they still do own 40 acres of land. Now, they mostly garden and have animals such as horses, pigs, goats and sheep.
Throughout their higher education career, Angela and Kendra do agree on one thing – "We wouldn't have made it through the program if it hadn't been for HCC instructor Laura Winstead," Angela said. "We had her every semester. Laura helped us so much," Kendra said. Laura Winstead, Professor and Program Coordinator for the Agriculture, has been here at HCC for almost 20 years.
So what's next for Angela and Kendra? "I want to be more on the animal side of it, dealing with the VFD's (Veterinary Feed Directives) and the livestock and obviously that's what I enjoy, I've done it for 26 years," Angela said. As for Kendra, she said "I would like to work in an extension office. That really interests me."
We know that whatever Angela and Kendra's futures hold, it will be filled with success! Thank you, Angela and Kendra, for spending time with us at HCC to tell us your story! At HCC, it's true that your success equals our success. Just remember, we're always here to help guide you through each step of your educational journey.
If you have a story about your experiences with HCC that you'd like to share, please contact Katelyn Hopman, Coordinator of Public Relations.
HCC is located at 2660 South Green Street in Henderson, KY. For more information about the college and our programs, please visit www.henderson.kctcs.edu.