CHECK OUT OUR NEW HCC ALUMNI CORNER!!
Published on Dec 18, 2019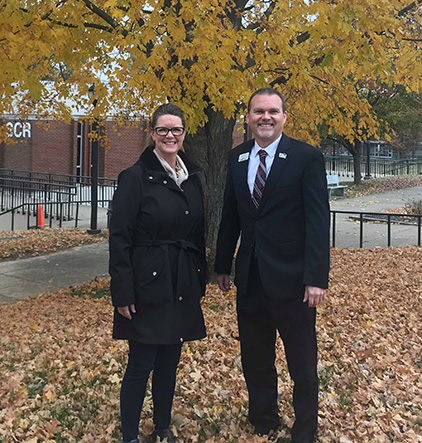 The experiences and stories of our students and alumni are a large part of what makes us unique, what makes us special. At Henderson Community College (HCC), we're proud of all our current and former students, and we're always looking to spread the message of how our institution has impacted the lives of others.
Recently, we had the opportunity to speak with Carrie Elliott. Carrie is a proud alumni of HCC. While that's enough of a reason to celebrate her and tell her story, she is not the only one in her family who has connections to HCC. Carrie's Mom, Sandy Rugg, was an Administrative Assistant here at HCC for 15 years. That's what introduced her to our institution. "We moved to Henderson when I was a junior in high school, and shortly after that, my Mom started working here," Carrie said. "My parents wanted to be able to put my sister and I through college without debt. I made really good grades to come out here, and received a scholarship to attend HCC tuition-free. After graduating, I transferred to Western Kentucky University for their 2+2 program, graduating with a Bachelor of Science in Management and Human Resources. After receiving that degree, I got a job that paid for my Master of Science Management degree at Brescia University."
Carrie is such a strong believer in what we do here at HCC that all of her children have attended, too. "My husband and I have four kids, and we wanted to provide them with an education debt-free. Our daughter, Katy, received her Associate degree from HCC and will graduate from Murray State University this year in their 2+2 program. Her twin sister, Ally, has taken classes at HCC as well." But Katy and Ally aren't Carrie's only children who have taken courses HCC. "My son Sam is a senior in high school and is in the second year of HCC's Early College Academy program, and my daughter Dylan, a junior, is in her first year. It's been a really good program for them," Carrie said.
Carrie left us with this comment, "And I want to say that going to HCC benefitted me. I've been very successful in my career, able to make a great living and be happy in my profession. My experiences with HCC, through my education and my children's, have been positive."
Thank you, Carrie, for spending time with us at HCC to tell us your story! At HCC, it's true that your success equals our success. Just remember, we're always here to help guide you through each step of your educational journey.
If you have a story about your experiences with HCC that you'd like to share, please contact Katelyn Hopman, Coordinator of Public Relations.
HCC is located at 2660 South Green Street in Henderson, KY. For more information about the college and our programs, please visit www.henderson.kctcs.edu.