What is Industrial Maintenance Technology?
As part of HCC's Industrial Maintenance Technology program, you will learn about the principles and practices of the maintenance trade. Good safety practices are emphasized and pride in workmanship is earned. Types of courses included are:
electricity
fluid power
digital electronics
PLCs
mechatronics
robotics
welding
Check out some of our IMT and FAME grads as they apply their manufacturing education working in local industry in this video from Henderson Economic Development!
What are my career choices?
The workplace of today requires the technician to make decisions about the operation and repair of manufacturing systems and to constantly learn and implement new information. You'll be trained to hold positions in factories, hospitals, hotels, etc., where multi-skilled maintenance personnel are needed. The core courses offered in this program will allow the student to advance in new and emerging areas of technology.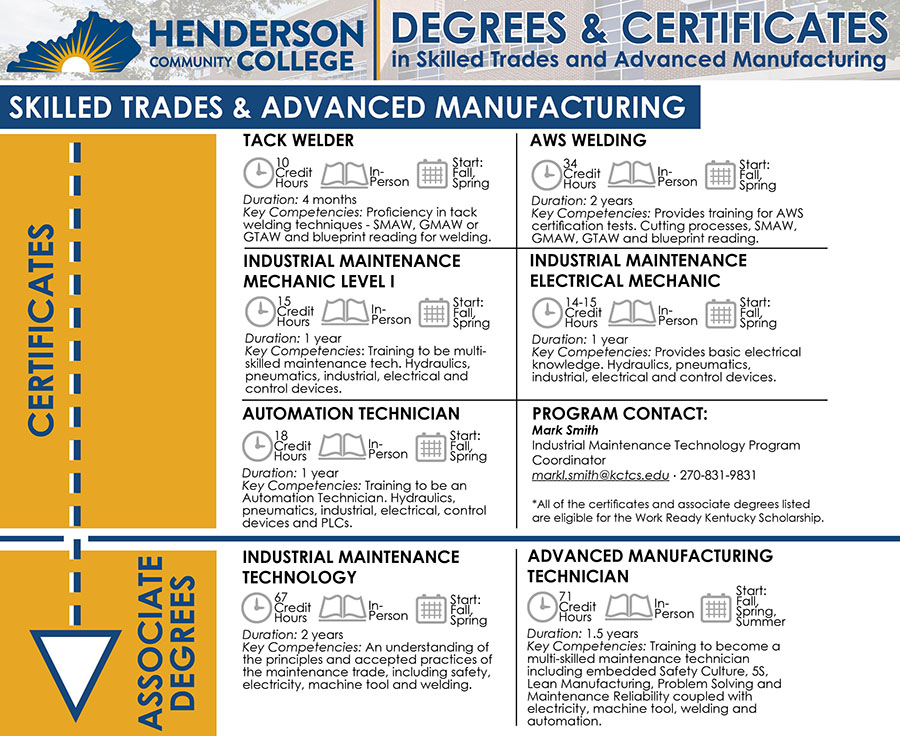 What are my degree, diploma, or certificate options?
Program Options/Academic Plans
Application for Certificate, Diploma, or Degree (.doc)
Associate in Applied Science Degree
Certificates
Length of Program
You can earn an associate in applied science degree in two years if you maintain full-time status.
This information should not be considered a substitute for the KCTCS Catalog. You should always choose classes in cooperation with your faculty advisor to ensure that you meet all degree requirements.